In 1996 then, Big Electric Cat took the chance and went on a huge three months tour in America with Christian Death and Switchblade Symphony, which proved to be a great success for the band.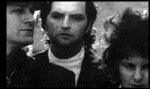 Touring and some consequential personal interests back in Australia took quite a while, so although live versions of some songs from the forthcoming album ("My Last Breath", "Crash") were already presented to the audience on the US tour, it was not until the end of 1997 that their second – and last – regular album entitled "Eyelash" was released.

Being still more electronic than the debut, "Eyelash" in contrast to the remix EP rather keeps and refines the core sound of Big Electric Cat who unfortunately since then have seemingly disappeared from the scene...
J. Botev, January 2003