The Big Electric Story...
Having already played in a band in England but being rather disappointed by the local live scene band leader Paul Sadler moved to Australia in 1989.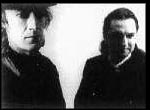 1992 then sees the formation of Big Electric Cat. The band's name is derived from Philip K. Dick's 1968 novel "Do Androids Dream Of Electric Sheep ?", which was filmed by Ridley Scott as "Blade Runner" in 1982.

Initially the band started as a five-piece but soon replaced the drummer by a drum machine named Dr. Ruth (a close friend of Dr. Avalanche... *s*), the core line-up consisting of Paul Sadler (Guitars & Vocals) and Deborah Denton (Keyboards, Programming & Additional Vocals) who were joined by David Block (Bass) in 1993, while the band still was trying to establish
a name in their native place, Sydney.